1.'Herland' by Charlotte Perkins Gilman 
For those interested in 19th century feminist literature, Gilmer is better known for her novella 'The Yellow Wallpaper'. 'Herland' is a science-fiction novel about a society exclusively led by women. Three men arrive in this female civilisation and the social dynamics change. Gilmore ends the novel on a cliff-hanger when one of the women births a son. It would be fascinating to observe audience opinion of this forgotten classic over a century after publication.
"The human mind was no better than in its earliest period of savagery, only better informed."

Gilman, 'Herland', 1915
2.Robin Hobb's 'Farseer' Trilogy and 'Liveship Traders' Trilogy
Hobb's epic sagas would surely fill the 'Game of Thrones'-shaped hole in everyone's viewing schedules. Set in the Six Duchies, the 'Farseer' trilogy follows assassin Fitz and features swashbuckling, pirates and magical creatures. What more could you wish for? The 'Liveship Traders' is also set within the Six Duchies kingdom. It follows the fates of magic, sentient ships, including the proud Vivacia who is forced to transport enslaved people and the Paragon, a 'mad ship', who has been left broken, unpredictable and sometimes volatile after a lifetime of hardship and abandonment.
"Everyone thinks that courage is about facing death without flinching. But almost anyone can do that. Almost anyone can hold their breath and not scream for as long as it takes to die.True courage is about facing life without flinching. I don't mean the times when the right path is hard, but glorious at the end. I'm talking about enduring the boredom, the messiness, and the inconvenience of doing what is right."

Hobb, 'Assassin's Apprentice', 1995
3.'Shardik' by Richard Adams
Richard Adams is best-known for 'Watership Down'. This was adapted into a classic animation and the same independent animation studio also produced his animal-rights allegory 'The Plague Dogs'. Set in the fictional Beklan Empire, 'Shardik' revolves around the capture and worship of a large bear referred to as 'Lord Shardik'. Although Shardik is no ordinary bear, their divine status is never confirmed by Adams, who forces readers to question the worship of idols and treatment of others. 
"Shardik has been sent to restore us to Bekla…the peasants need to know no more than that".

Adams, 'Shardik', 1974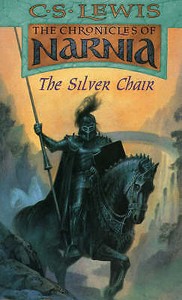 4.'The Silver Chair' by C.S.Lewis
This installment of the Narnia trilogy is often overlooked. In 'The Silver Chair', Lewis takes fantasy back to the place of damsels and knights, epic adventures and 'here there be dragons'. This Narnian tale is particularly mediaeval-inspired. It revolves around the quest to find Prince Rilian, son of King Caspian, who became obsessed by the pursuit of a beautiful green lady which culminates in his disappearance. Any adaptation of 'The Silver Chair' should be a sumptuous, opulent fantasy indulgence and a visual feast. 
'Then in good time on the next day they saddled their horses and rode a great gallop into the northern woods and alighted at that same fountain where the Queen got her death. Drinian thought it strange that the Prince should choose that place of all places, to linger in. And there they rested till it came to high noon: and at noon Drinian looked up and saw the most beautiful lady he had ever seen; and she stood at the north side of the fountain and said no word but beckoned to the Prince with her hand as if she bade him come to her. And she was tall and great, shining, and wrapped in a thin garment as green as poison. And the Prince stared at her like a man out of his wits. But suddenly the lady was gone, Drinian knew not where; and they two returned to Cair Paravel. It stuck in Drinian's mind that this shining green woman was evil.'

Lewis, 'The Silver Chair', 1953
5.'Ivanhoe' by Sir Walter Scott
Scott's epic story of vengeance, justice and love is set after the third Crusade. Anglo-Saxon nobleman Sir Wilfred of Ivanhoe returns home to a tempestuous relationship with his father over his allegiance to Richard the Lionheart. The novel explores the difficult politics between the Norman and Anglo Saxon nobility, religious conflict and gender politics. It also features an appearance from Robin Hood. Be prepared for courtly love and chivalry galore!
"Chivalry!—why, maiden, she is the nurse of pure and high affection—the stay of the oppressed, the redresser of grievances, the curb of the power of the tyrant—Nobility were but an empty name without her, and liberty finds the best protection in her lance and her sword."

Scott, 'Ivanhoe', 1819
Do you have any books that you dream of being adapted?